I'm extremely excited to be featured tomorrow on the blog for
Bob's Red Mill
. Partly because I'm obsessed with their products. I have yet to be disappointed with one of their mixes, especially in the gluten-free line. They're posting gluten and casein free recipes every day this month from different bloggers to bring options to parents of kids with Autism during Autism Awareness Month. This is something very dear to my heart. I used to work in early intervention classes helping children just diagnosed during those first formative years. So to give a little bit to that again is really great.
Be sure to visit tomorrow to get the recipe for some killer Blackberry Cornmeal Muffins.
Thought I'd also throw in another recipe we enjoyed last week. It's artichoke season which always makes me giddy. I adore artichokes but have never tried them stuffed. It's a super easy way to prepare them but with tons of flavor payoff.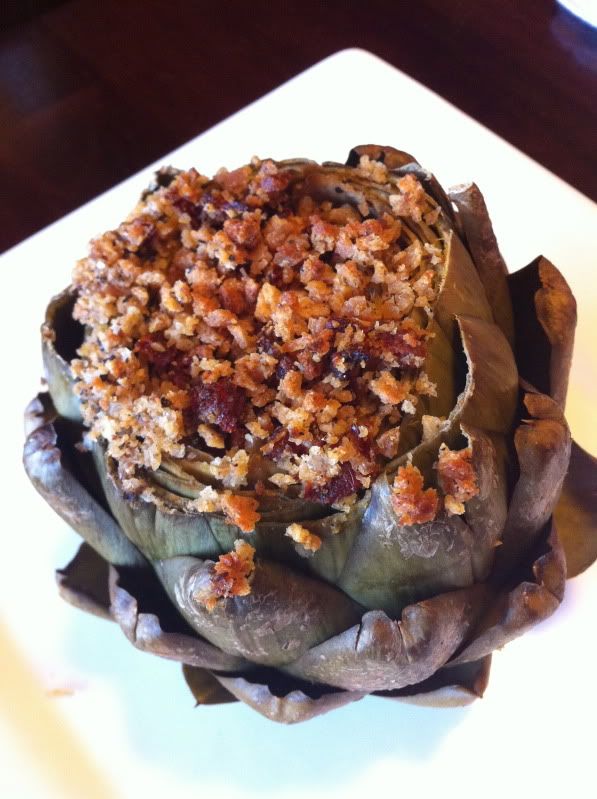 Sun Dried Tomato Stuffed Artichokes
2 artichokes, stem and top trimmed and inside leaves & "hair" torn out to expose heart
2 cups gluten-free breadcrumbs
4 tablespoons chopped marjoram (or other fresh herb on hand)
1/3 cup chopped oil packed sundried tomatoes
1/4 teaspoon salt
1/8 teaspoon fresh ground pepper
Olive oil
3 cups water
1 vegetable bullion cube
4 lemon slices
1 bay leaf
black pepper
Rub lemon slice on cut edges of artichoke to prevent discoloration.
Toss breadcrumbs, herbs, tomatoes, salt, pepper and enough oil to moisten in a bowl.
Fill the center cavity of each artichoke with the stuffing mix.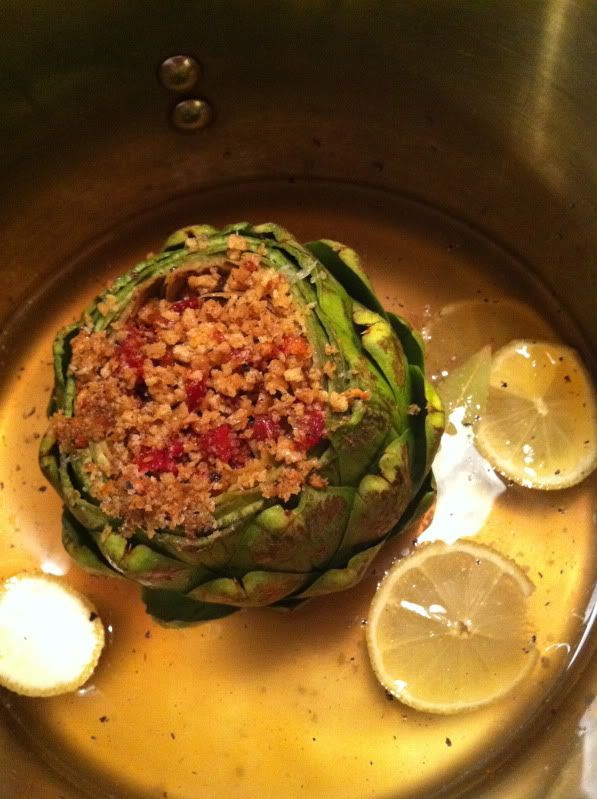 Place water, bullion, lemon slices, bay and some cracked pepper into large pot. Place artichokes in and make sure they're covered in water up to the bottom leaves. Let simmer, covered, for 30-45 minutes. If you tug on a leaf and it comes off easily, they're done.
Preheat oven to 350 and bake the steamed artichokes for 10-15 minutes until stuffing is browned. Serve immediately.