I had grand plans for having a fun fourth birthday party for our little pup Max this year. We
celebrated big
on his first birthday but then one kid came, and then another and the poor pup became third fiddle.
I was determined that this year would be the year to do another party.
A bunch of dogs all romping around the yard is tons of fun and it's a great excuse to hang out with their owners over great food and cocktails.
So I sent out invites and everything. See?
Well, his birthday weekend just so happened to fall on the only weekend we had open and was the weekend my wonderful husband wanted to send me on a girls trip.
So, I chose to be selfish and cancel the party.
In hopes of ever getting to this party again this year, here's my inspiration board. If not, well, the 5th birthday's a big deal right?
Happy (much belated) 4th birthday to the
craziest poodle
around!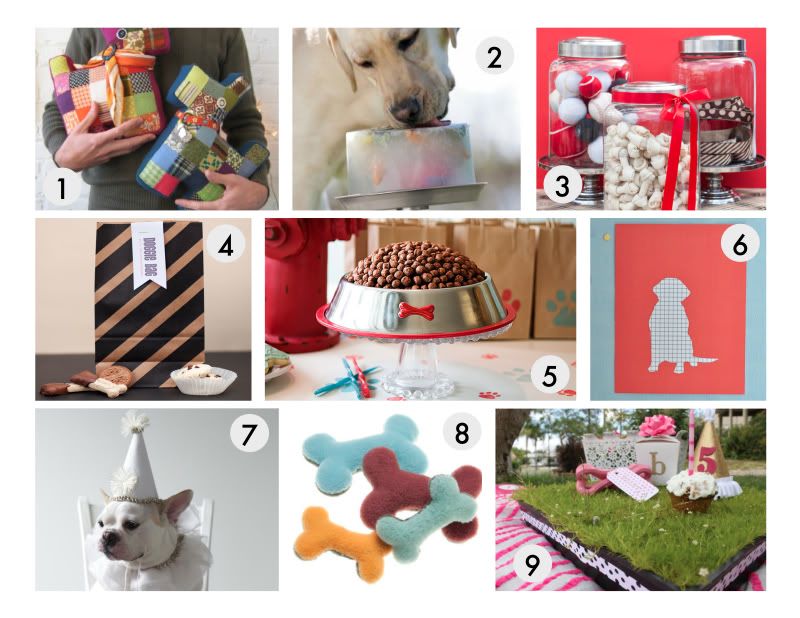 {1: tutorial for quilted scottie pillows, could be great party favors or an activity for each guest to choose pre-cut fabric and take home to do, 2: dog toy ice lick, would keep the dogs entertained and hydrated on warm summer days, 3: balls, bones, and leashes oh my!, 4: doggie bags to send treats home in, 5: dog bowl platter could hold all sorts of yummy food, 6: great silhouette party invites, 7: the center of attention can't go without a party outfit, 8: plush bone party favors, 9: gather friends and celebrate all your dogs' special day}