I get asked a lot where I find my inspiration for pulling together weekly meals. I think the question of "What's for dinner tonight?" is the bane of any adults existence. Not only that but, if you have children, what will
they
eat that
we
can enjoy also?
The answer to finding inspiration is simple: look everywhere!
I've told you about my obsession with
iPhone food apps
, well, admittedly, apps in general (but more on that later this week). I've mentioned some
books I have around
. But I also use the good ol' www for most of my searching and researching.
And I do a lot of it.
Any time I see something that seems realistic in me making, I'll bookmark it,
Pin it
, or
favorite it
.
Today I'm going to hand over my interweb-arsenal to you, with a recipe from each of my most visited seven sites.
*Note*: For those who have food allergies, are vegan or gluten intolerant, I will post all of my favorites for those sites in a few weeks.
Here's to you also being inspired and breaking out of a possible weekly rut.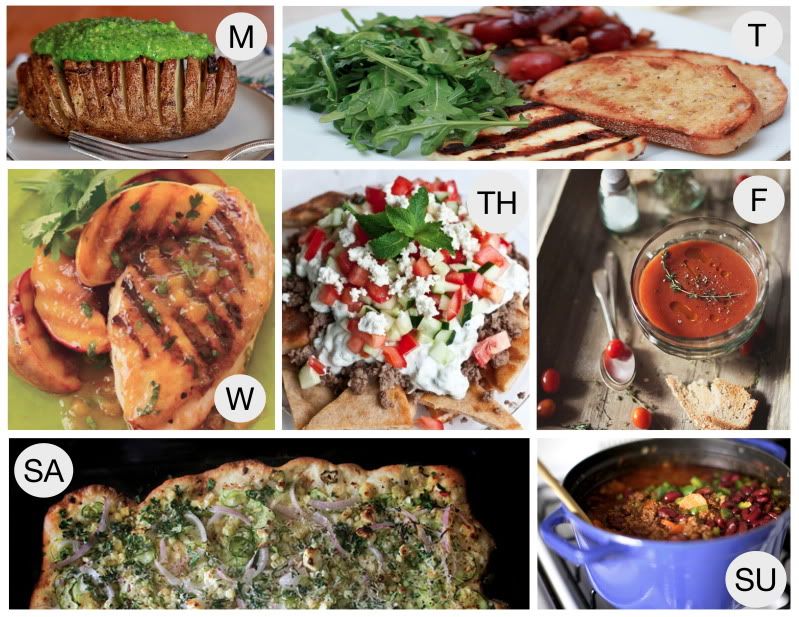 {m: hasselback potatoes with spinach cashew pesto, t: grilled halloumi with grapes, walnuts and rosemary,
w: grilled chicken and peaches with chipotle peach dressing, th: greek nachos, f: roasted tomato soup,
sa: corn zucchini lime pizza, su: beef chili + sour cream and cheddar biscuits}