Guess what?
THANKSGIVING IS NEXT WEEK!!
I can't wait. It's my all-time favorite holiday. Yes, more than Christmas and National Nacho Day. And that's saying something.
So in honoring this wonderful day that we Americans get to stuff our faces past the point of our buttoned jeans, here are the recipes I'm trying out
this
week as to not burn down the house next week.
These are mostly side dishes, with an appetizer and dessert thrown in. And the beer-brined turkey? No, I'm not
that
mad. We were given a homegrown chicken from our friends that I'll be trying the recipe out on. Make whatever main you want to go with the sides, but yes, come Thursday, the Pumpkin Banana Pie
will
be what's for dinner. Don't judge.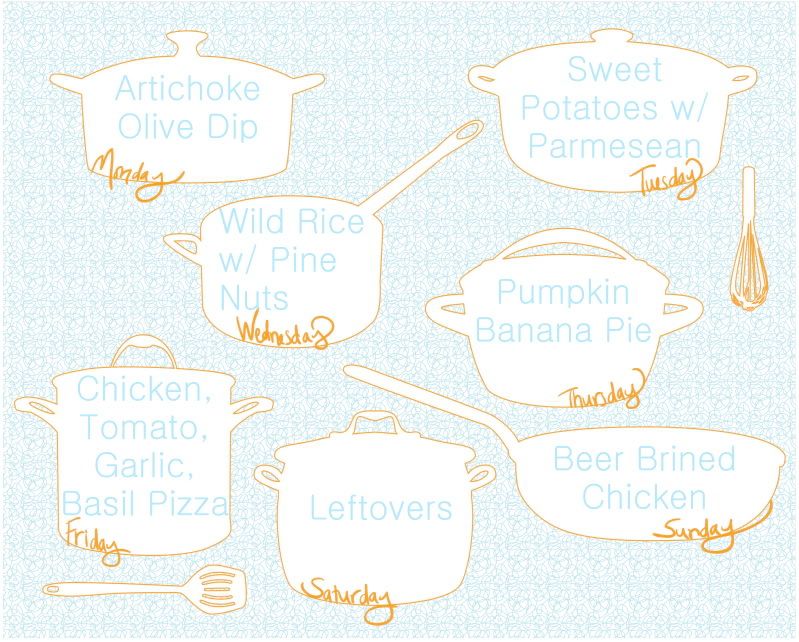 t, w, th, su
Warm Artichoke-Olive Dip
Ingredients:
1 8oz package frozen artichoke hearts, thawed
3/4 cup (packed) fresh basil leaves (plus additional for garnish)
1 cup finely grated Parmesan cheese
3/4 cup green olive tapenade
1 5.2oz garlic-and-herb cheese (such as Boursin)
Assorted sliced crusty breads or tortilla chips
Preheat oven to 375. Coarsely chop artichokes and 3/4 cup basil in processor. Transfer mixture to 4 cup baking dish; mix in Parmesan, tapenade, and herb cheese. Bake until hot, about 30 minutes. Garnish with basil. Serve with breads.