I've been seeing tons of wreaths around the blogosphere lately and decided I needed one of my own. Not a big wreath person, but was feeling a bit drab without any seasonal decor around. But why have decor you can only use for one holiday? Why not make something that you can switch out at each holiday? So I set out to make a wreath I can use year round. Since St. Patrick's Day is next week, I saw no better time to get some green up.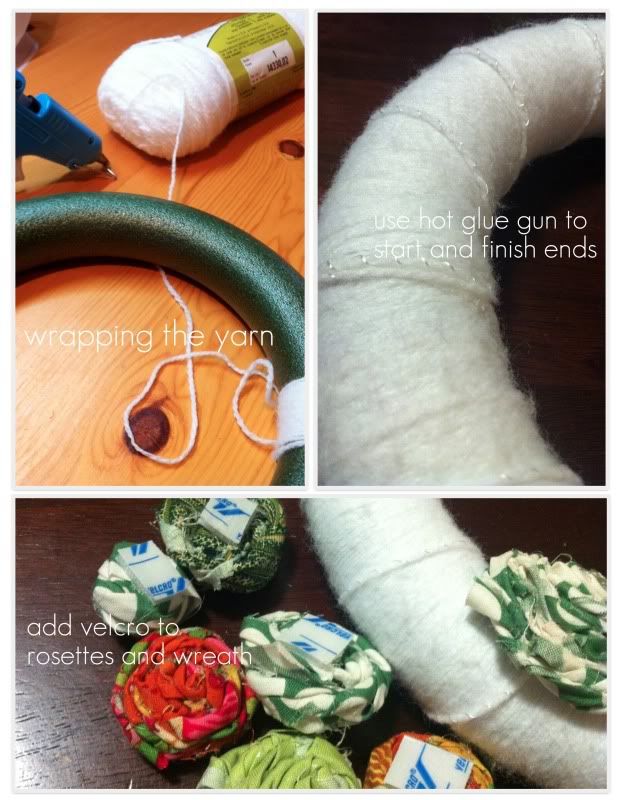 Wrapping the frame in a white yarn made for a clean, basic template. I then made a bunch of rosettes in varying sizes. Quick side on making rosettes: I adore because the sloppier you make them, the cuter they turn out! Just cut a strip of fabric, fold in half longways, grab your glue gun and start wrapping it around, gluing to secure as you go.
I then fastened the St. Patty's themed flowers with
velcro
. I mean, really, when's the last time you used velcro? Probably not recently enough. Velcro's perfect for those of us that don't want to commit. You should find something to use it on.
Once secured, tie some ribbon or fabric around in order to hang it. The end! Other than wrapping the yarn, this was a pretty quick project. Total cost: $1 for the wreath. The rest of the materials I already had!
Easter, I'm coming for you next.