Things have been a bit scarce around here this week. I have good reason though! I'm drowning in pom-poms and jelly beans! Sedae's party is this weekend and I seriously lagged getting started, only because I was still recuperating from Tayden's party last month.
I'll be posting all the details but most likely next week, after the fact.
We're doing her party in the morning because normally she's in the best moods then, especially since she's cut out her morning nap (*sniff, sniff*).
So a brunch party is in order! Who doesn't love brunch? All the benefits of a good breakfast, plus free license to drink mimosas!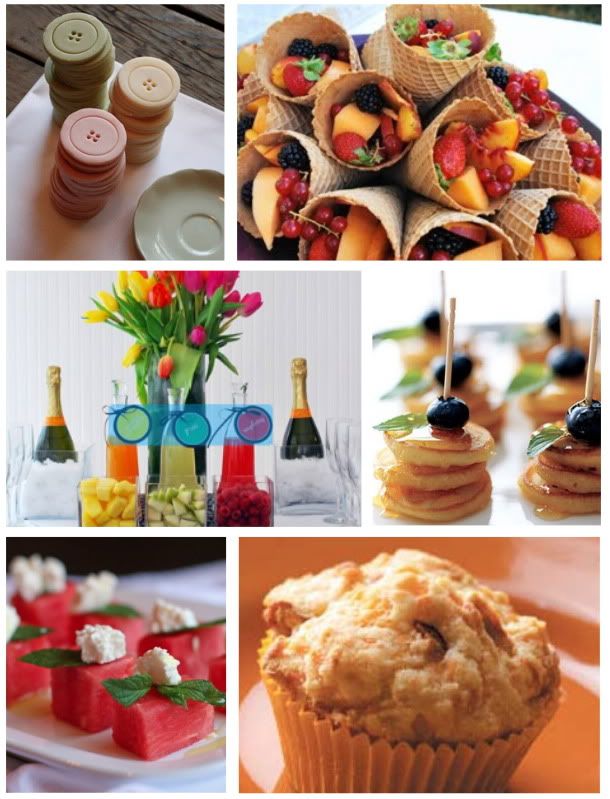 Here's what ours will look like:
-Coconut Lime Button Shortbread Cookies (recipe below)
-
Gluten Free and Vegan Carrot Cupcakes from BabyCakes
-Fresh Strawberry Cupcakes
-Fruit filled cones with whipped cream
-Gluten Free and Vegan Silver dollar chocolate chip pancakes
-Gluten Free Bacon and Chive Muffins (adapted from
this
)
-Breakfast Potato Stacks
-
Watermelon Salad
-Coffee
-Strawberry Mint Water
-Mimosa Bar with Watermelon, Lemon Rhubarb, Guava, Strawberry, Orange Passionfruit and Peach juices.
I'm really excited about the shortbread cookies. I got the idea from
Fourty-Sixth At Grace
and fell in love. I wanted them gluten-free however. And not just vanilla. So I pulled out my coconut flour. Have you tried coconut flour? It is really high in fiber, a great source protein, and has the most wonderful flavor. Then I thought, what goes better with coconut than lime?! Here you have it.
Gluten Free Coconut Lime Shortbread Cookies
1 1/2 cups gluten free all purpose mix
1/2 cup coconut flour
1/4 teaspoon salt
2 sticks (1 cup) unsalted butter, softened
1 cup confectioners' sugar
1 teaspoon lime zest
1 teaspoon vanilla extract
Whisk together the flours and salt in a bowl. With a mixer fitted with the paddle attachment, beat butter, sugar and lime until pale and fluffy. Reduce speed to low and slowly add the flour mixture until just combined. Divide dough in half. Shape into a disk; wrap in plastic. Chill until firm, about 1 hour.
Preheat oven to 350. Let dough soften slightly at room temp. Working with one disk at a time, roll out dough on a lightly floured surface until 1/2 inch thick. Using round cookie cutter cut out your shape and space onto cookie sheet 1 inch apart.
Bake until edges are pale golden, 16 minutes. Transfer to wire racks to cool. Can be stored in airtight container up to one week.