I think my library card has a hole burned into it. We live just mere blocks from our library and I'm not exaggerating when I say I see the inside of that building at least 3 times a week.
But I'm a lazy library lover.
Or a 21st century one.
While I still adore having something to hold in my hands, the weight of the book, the feel of the paper, I do enjoy the modern convenience of reserving online.
Do you do this?
I run across books I'd like to read from many different places. Then I hop on over to our library's website and reserve it.
Gone are the endless, precious hours spent scouring for article numbers only to find it has been misfiled.
They do all the work for me!
And when I go in, it's there, waiting to come home with me.
We do this so much that my children vaguely know where to even go for books other than the reserved wall.
Sad?
Nay. Brilliant.
Because I'm able to do those quick runs, in and out,
unless we have the time
to linger and explore.
Speaking of time, gone are the days of spending an evening curled up with a good book requiring more attention than a minute or two at a time.
Now we're more into books that lend ideas for our other creative outlets of food, entertaining and creating.
Next week I plan on sharing all of my kids' favorite reads with you also, but in the meantime, click on the 'kids reads' tab above for some good classics we enjoy. Here's the books Rich and I are reading.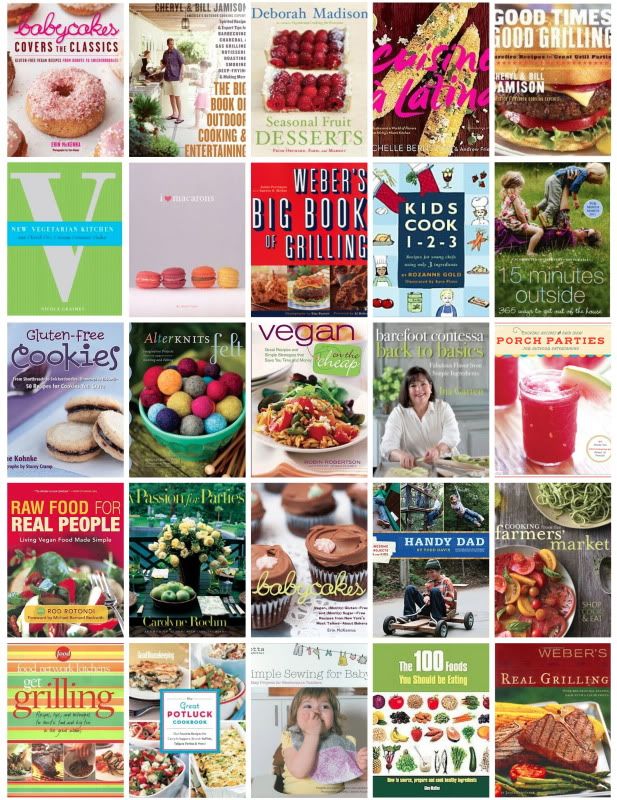 {row 1: babycakes covers the classics, big book of outdoor cooking & entertaining, seasonal fruit desserts, cuisine á latina, good times good grilling}
{row 2: new vegetarian kitchen, i heart macaroons, weber's big book of grilling, kids cook 1-2-3, 15 minutes outside}
{row 3: gluten-free cookies, alterknits felt, vegan on the cheap, barefoot contessa back to basics, porch parties}
{row 4: raw food for real people, a passion for parties, babycakes, handy dad, cooking from the farmers' market}
{row 5: get grilling, the great potluck cookbook, lotta jansdotter's simple sewing for baby, 100 foods you should be eating, weber's real grilling}