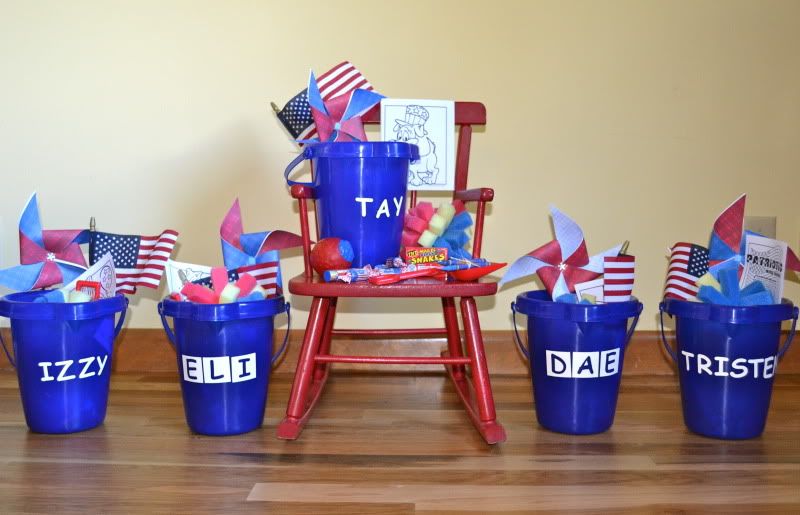 We're going to be spending the Fourth of July on the beach this year so I wanted our kids, and our nephews and niece we're going to be with, to have a sand pail filled with goodies they could enjoy there. I was able to make all five buckets for about $25. Here's how I picture it all going down.
The sand pail and shovel are obvious beach toys, but no one will mistake one for another with them clearly, and playfully, labeled.
The firework-channeling sponge ball will be great fun soaking up sea water and cooling each other down.
I picture a game of toss or juggling competition with the bean balls.
The pinwheels attached to a clothespin could be the crowning glory to a collaborative sand castle.
Chapstick and a jolt of sugar from the tootsie-rolls will be great afternoon pick-me-ups.
Followed by a coloring competition?
Of course the magic snakes (and sparklers, not pictured) and mini American flag are for the evening festivities surrounded by
good food
and fireworks show.
Sound fun? Make any version of your own with the links and inspiration below.

{flags, bucket with shovel and magic snakes from Target; chapstick, candy and crayons from Dollar Store; pinwheel how-to, download 4th of July coloring pages, make sponge balls, and a bean ball tutorial}