When I say the "kids are reading" what I
really
mean is what
we're
reading to them. So really, these are not only their favorites but the ones we don't mind reading over and over and over...and over again.
I figured out that we read about 60 books a week. SIX-ZERO! Three at nap and three more at bedtime for Tayden. Two at nap and one at bedtime for Sedae. That's a lot of books.
So we have a whole arsenal of go-to's.
And like I've
said before
, we visit the library a lot to refill that arsenal.
But I love that my kids love reading so much. Lots of times I'll find them reading to themselves, too. That warms my heart.
Some authors we never tire of are Sandra Boynton, Mo Willems, Karen Katz, just to name a few.
Aside from the running list of
books we love
, here's some we're reading now: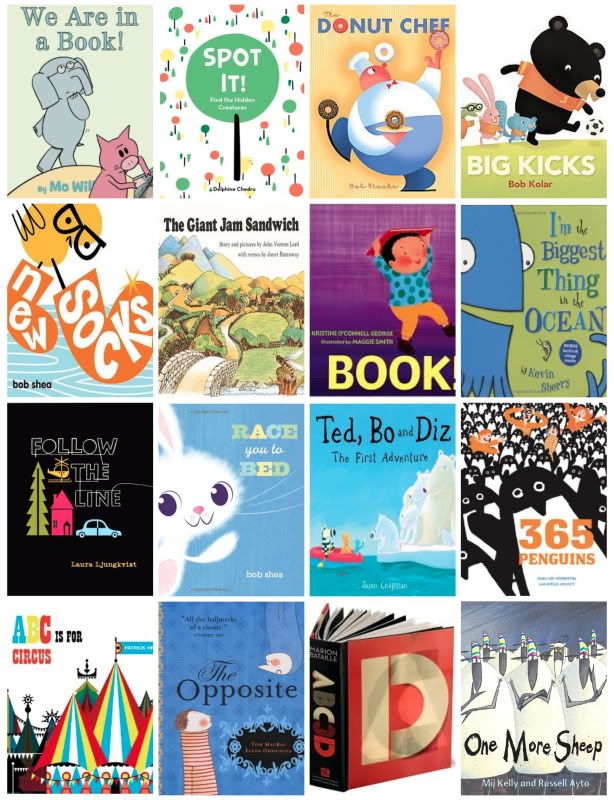 {row 1: we are in a book, spot it!, the donut chef, big kicks}
{row 2: new socks, the giant jam sandwich, book!, i'm the biggest thing in the ocean}
{row 3: follow the line, race you to bed, ted, bo and diz, 365 penguins}
{row 4: abc is for circus, the opposite, abc3d, one more sheep}