School starts this week around these parts, and while some of you have already been back to the grind for a week or two, I thought I'd kick off September with a little help in the mealtime planning department, with a meal planner.
At the beginning of each month I plan on changing up this planner to get you into the mood for the month. This month, as you could guess, is geared towards back to school.
Print this off, one for each week in September, and hang it in your kitchen for everyone to see. You could even
frame it and use it as a dry erase board
. There's space to plan out your meals as well as snacks.
(click on the image to take you to the download)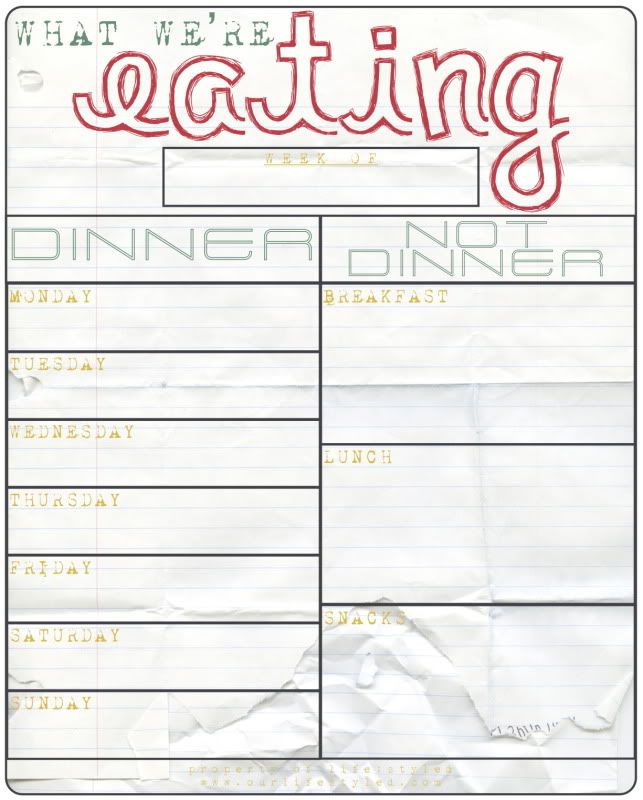 And since school is starting back, hectic schedules are surely in tow, so easy, yet healthy, recipes are in store this week. Ok, maybe the mac & cheese isn't the healthiest, but Monday's need all the help they can get!
Friday's your chance to get outside and enjoy the beginning of the weekend bbq'ing and enjoy the fact you made it through the week.
The kids will go nuts over Saturday's dinner of a ham and cheese sandwich made in the waffle maker. Get them in the kitchen with you and make them chef for the day.
As always, click on the links below to go to each recipe's website.
{m: crack-n-cheese, t: chicken and cheese sliders, w: smashed white bean and avocado club, th: greek quinoa and avocado salad,
f: honey-glazed chicken, peach, and sweet potato skewers, sa: waffled ham and cheese sandwiches, su: fresh tuna tacos}