Here it is!
I took inspiration from my gathering of
advent calendars
, and came up with this for our little family.
And I'm sharing the download with you!!!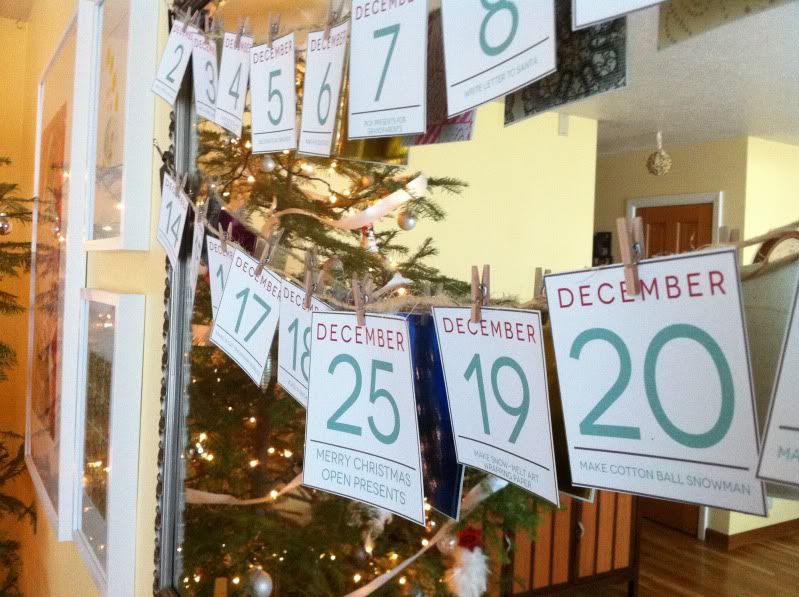 I knew that instead of a candy/little toy advent calendar, I wanted to be able to have activities for each day of the month, to savor the fun of December. The greatest thing is that the activities I chose can be enjoyed by kids of all ages, tweaking here and there where necessary.
I also knew that I wanted the calendar to hang in our house, as counter-top space is limited. This way, it makes a cute little banner to enjoy all month long as well.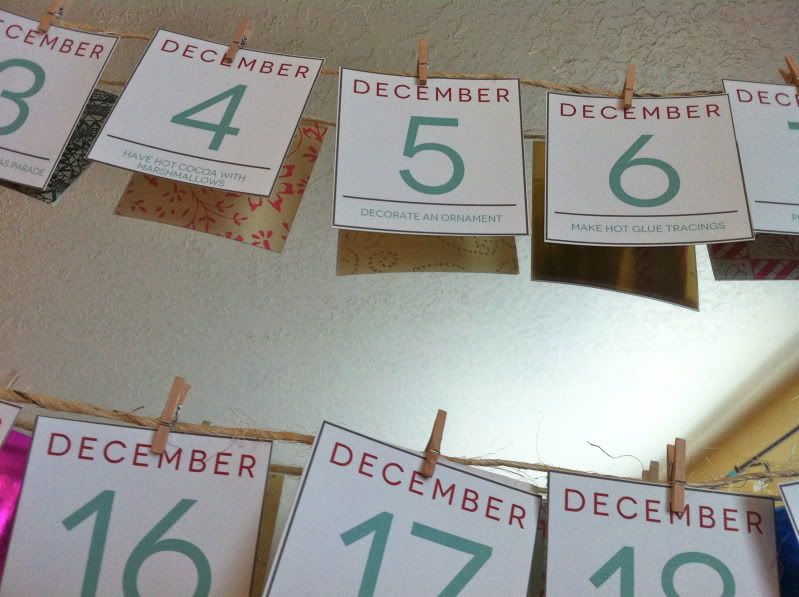 I love how hanging it on our mirror allows a peak at the un-covered day to come, or the reflection of the paper back once revealed.
So here's what to do.
Download
, print and cut out the activity cards I made for you. Choose and cut out 3x3 squares of scrapbooking paper to cover the back of your activity cards (and one 4x4 for December 25th). Glue the decorative paper to the back of the cards, grab some twine or ribbon and clip on your cards with clothespins. Each day, uncover your activity for that day. Easy! Fun!
Below are links to some of the crafts found on the cards.
December 2-
make crystal snowflakes
December 6-
make hot glue tracings of winter objects
December 9-
make snowglobes
December 12-
make okra snowflake prints
December 14-
make an ice block building
December 15-
make foam snowmen
December 19-
make snow-melt art wrapping paper
December 20-
make cottonball snowman
December 21-
make glue paint snowflakes
December 22-
make snow play-doh