This week we are taking the kids on their first plane ride. Our three year old son is over the moon at the thought. The 18 month old baby girl terrifies me. It's a long flight so I'm loading up our arsenal of busy bag goodness.
Since we're also limited on space (overhead compartment anyone?), the criteria for things allowed in the bag had to be flat, bitty, and long lasting. Tall order, huh?
Check back every day this week while I blow your mind with fantastic new ideas for
your
bag. AND, I'm giving you a two'fer today. Yep. (
see here
)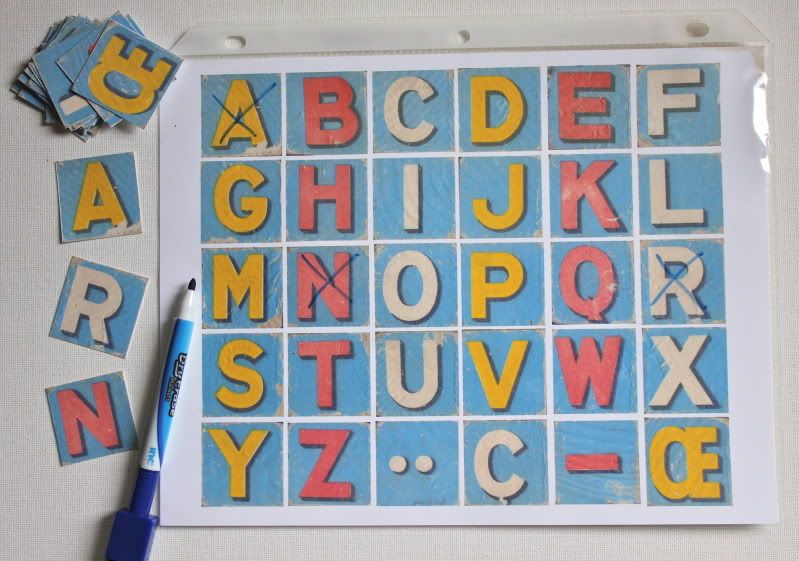 I don't know what it is about me and
dry erasing everything
lately, but I just can't stop! It's a moms dream to let their kids go wild with a marker on a surface they can just wipe clean! There's so much potential here people...
I have this set of vintage alphabet letters that I usually
put on wood blocks
, but decided to make a game out of it for my three year old too.
I printed off two sheets of the alphabet, put one in a protective sheet cover and cut up the others into individual letters and you're done. How do you play? Grab a dry erase marker and pull a letter out of the stack, match it with the other and cross it off. Great way to practice letter recognition and matching.
I love this one because it takes up such minimal space. You could make a whole slew of different games out of this too, and put them in behind each other, switch it out when ready for a new one. Like maybe this
vintage iSpy sheet
?

(ps- if your kid likes iSpy, be sure to come back on Wednesday...)