It has been a hard transition back into the life of reality after our epic family vacation to Maui two weeks ago. Constant daydreaming of the warm sun, sand on my toes (and everywhere else), and just being outside has made the 20-40 degree days brutal. Bru-tal.
All that to say, I haven't been very motivated in the life/blogging arena and I apologize for the break.
The best way I've found to get back to reality comes with no magic pill, but simply jump back in. With both feet.
I (finally) started a Facebook page for Life:Styled, in hopes of developing a wonderful and inspiring community of friends, old and new. If you haven't yet, go like it
here
now! Later this week I have my
first giveaway
lined up, which I'm super excited about, and liking the page will count for one entry. So go, be ahead of the game now!
Ok, onto today's post. Maybe I should give a little background again as to why I started Menu Monday's. Plain and simple: if I create a menu to
share
, it holds me accountable to actually make a menu for my family. It also excites me to think maybe some of us, somewhere in the world, are making the same dish to feed our loved ones.
For instance, my husband and I have date night every Friday. And we normally spend it at home together, after the kids have gone to sleep, eating great food (and drinks) and watching a movie or playing games. Last year we made nachos. And got burned out by the end of the year. 2012 has started off with cheese plates. Oh the choices.
Some other friends have joined in the Friday fun, so why not give it a try this week? If it seems daunting to you, start with Friday's website below that will give you some pointers for jumping in. Also, I post a picture of what ours looks like via
Instagram
every week. In addition, I hope to share insight and pairings we discover, both here, and on the Facebook page.
On Saturday, I'm trying my hand for the first time at making fried chicken with our
friends local chickens
(If you live close, you must order these. They will change how you taste chicken forever.) Will you join me?? Bon Appétit's website gives lots of help in order to be a success in cooking their cover.
Along with the dinner menu, you'll find a set of 7 snacks, side dishes, and desserts we'll be having this week.
Here's what's for dinner:
(as always, click on the links below the picture to take you to the recipe)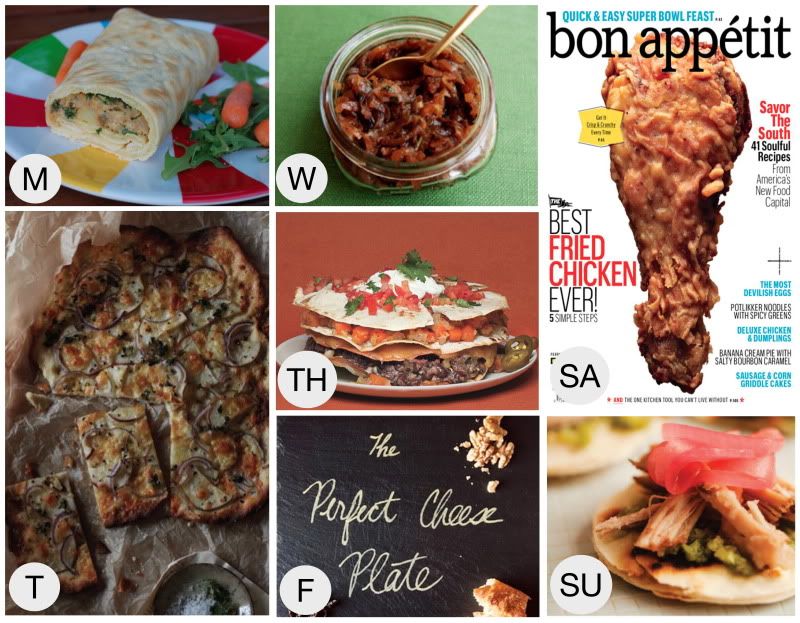 {m: chickpea breakfast burritos, t: pear, manchego and red onion pizza, w: shallot-tarragon jam, serve atop a fresh, bbq'd white fish,
th: stacked veggie quesadilla, f: cheese plate, sa: cook the cover, the perfect fried chicken, su: pulled pork with picked onion}
Snacks:

{1: coconut banana bread, 2: apple sandwich, 3: no bake, chewy granola bars, 4: homemade gummy fruit snacks,
5: chocolate dipped, peanut butter pretzel bites, 6: sweet potatoes with mirin and sweet honey, 7: stuffed strawberries}