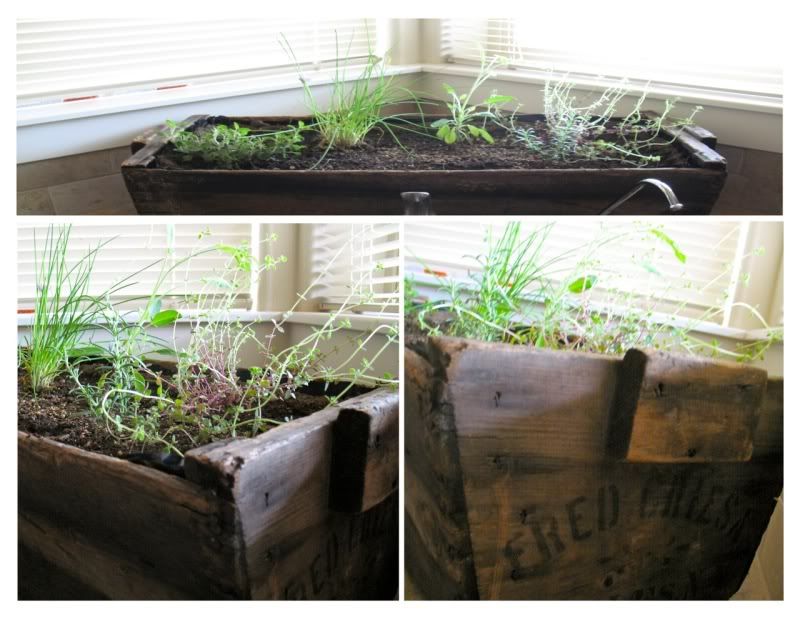 So I've had this wooden wine-grape carrier for years now.
I found it at a local antique store and just had to have it. I instantly loved how big it was and visioned it being this great statement piece.
And it's sat.
For years.
In the garage.
Why?
Because it was too big!
We've finally put it to good use at our new home. It now sits at our kitchen window sill holding oregano, chives, sage, thyme, rosemary (and soon basil).
Having an indoor herb garden has been one of those projects I've always wanted to do but never got around to it. You know what I'm talking about. That's why it's on my
101 list
to complete.
And in our old house, there was never a spot with direct sunlight for any plants to live in it. So, now it's in its new sunny perfect spot.
Rich lined it with plastic, we put porous rocks on the bottom (to help the herbs from rotting) and filled the rest with soil. It's heavy. So it's wonderful I don't have to move it to water!
And who doesn't love to have fresh herbs year round? I can't wait for them to get bigger and start putting them to work.
This little project also completed another on my list: repairing all decor or tossing it. Since I brought my grape carrier to life, it will not meet its match this summer in the fire pit.