The eternal question: What's for dinner? That time of day when you open your fridge only to come up with nothing. If you're lucky you're able to pull something together, just enough to fill your belly. Then there's those rare occasions when you come up with something that is extraordinary. Tonight was one of those rare nights.
The fantastic part was how simple it was. Sinful really. Two dishes. Both containing only three ingredients. Here's what I came up with but hopefully it will inspire you too!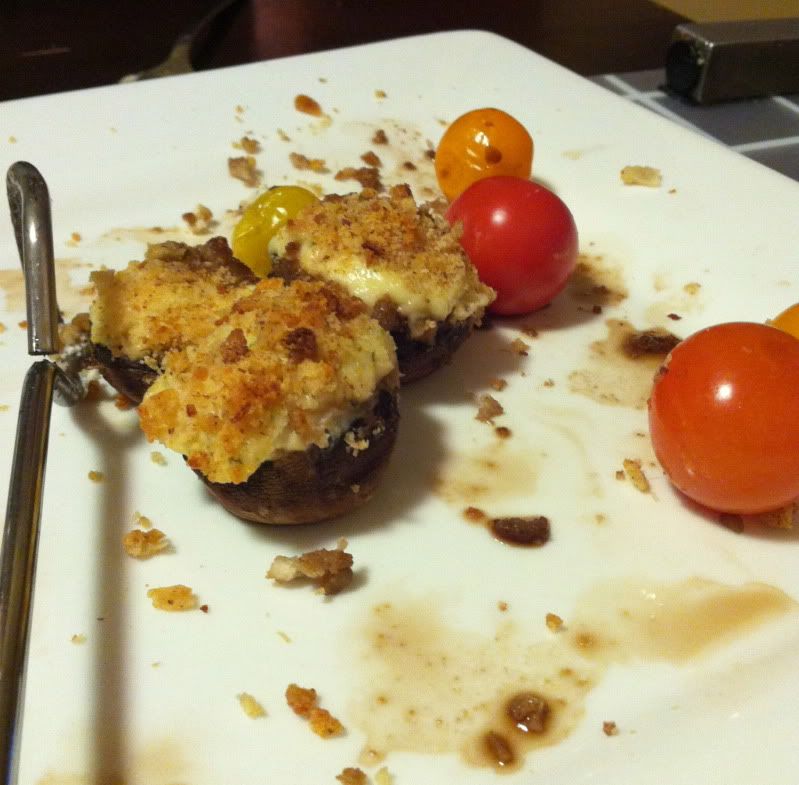 Stuffed Mushrooms, Roasted Veggies & Pureed Cauliflower
1 pint baby portabellas
4 oz. herb & garlic Boursin cheese
Bread crumbs (used gluten-free)
Handful of heirloom cherry tomatoes and garlic cloves
1 head cauliflower
3 tablespoons unsalted butter
salt & pepper
Preheat oven to 350. Wash and remove caps from mushrooms. Stuff with cheese and top with breadcrumbs. Line cookie sheet with parchment paper and scatter stuffed mushrooms, tomatoes and garlic. Bake for about 20 minutes or until veggies are soft.
Meanwhile, de-stem cauliflower and cut into chunks. Steam in 1 cup water for about 15 minutes. Transfer to food processor or blender with some of the cooking liquid, butter and salt and pepper to taste. Process until smooth, adding more liquid as needed.
Serve both warm. Enjoy!