Whoa. That title is a mouthful, eh? Speaking of full mouths, let me finish my fresh, warm slice...
Ok. Now we can carry on.
I love quick breads. Those recipes you know by heart, can throw together, and is out of the oven in less than an hour. Then if there's any left come morning, you've got a quick grab and go breakfast you can feel good about feeding your family. Banana bread is one of those. But how sick are you of the plain old recipe? So you sit there staring at those nasty over ripe bananas on your counter, you know the ones, and think "Really?
More
banana bread?"
So came this recipe. Still easy, which is important, but with a bit of attitude. Oh yeah. Breakfast bread that bites you back! And what's more? It's Gluten Free. Egg free. Dairy free. SUGAR free. And still chock full of flavor. Don't believe me? Give it a try, then tell me.
But wait, there's more! This recipe not only makes
one
loaf, it makes two! Eat it. Freeze it. Gift it away. I know I'm going to be sharing it with some moms tomorrow.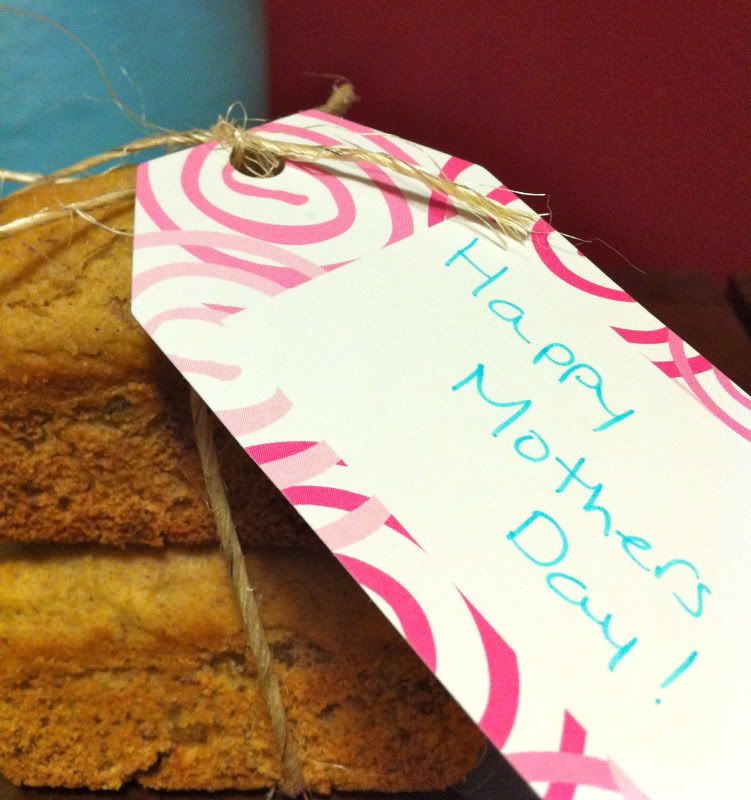 Gluten Free Coconut Ginger Banana Bread
2 1/2 cups gluten free all purpose mix (if you're not ready, use your regular AP)
3 1/2 teaspoons baking powder
1 teaspoon salt
1 teaspoon cinnamon
1/4-1/2 teaspoon ground ginger (depending on how much you want to be bitten)
1/2 cup gluten free rolled oats (or old fashioned rolled oats)
1/2 cup chopped pecans
1 tablespoon ground flax mixed with 3 tablespoons warm water (or 1 egg)
2-3 ripe bananas, mashed
3/4 cup coconut milk (not light)
1/2 cup local honey
3 tablespoons coconut oil (or vegetable oil)
Preheat oven to 350 and spray two loaf pans with non-stick cooking spray.
In a large bowl, mix the first 7 ingredients together.
In a medium bowl mix the flax mixture, mashed bananas, coconut milk, honey and oil.
Pour the wet ingredients into the dry until combined.
Divide mixture among the two loaf pans. Bake for 40 minutes or until nicely browned and toothpick inserted in the center comes out clean. Slice. Serve. Savor.