We took a 5 hour road trip to the coast this past weekend (can't wait to share the pictures!). Our first in quite a while. This travel lover has had crazy cabin fever, but a trip away just never worked out. I was quite nervous about how Sedae would do. We weren't driving during her nap or bed time. And she doesn't really dig car rides. She's most happy sitting in our laps. Tayden is our road-trip-warrior thank goodness. Otherwise I don't think I'd even drive to get groceries.
I knew I'd need a giant bag of tricks to keep them both happy none-the-less. Or bucket in our case.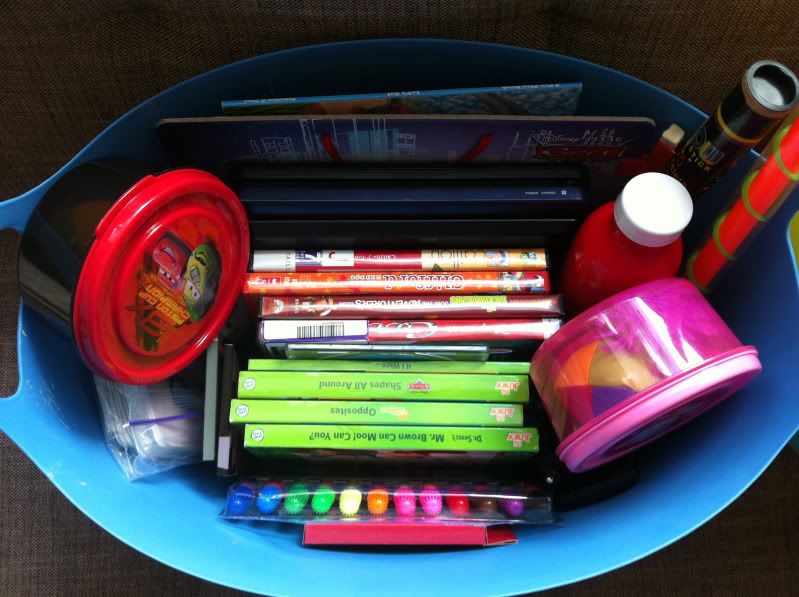 My original thought was to do a sort of sensory bucket. Where imagination and discovery were the main focus. And except for a few books and a DVD player, it was just that. Let me show you what we had!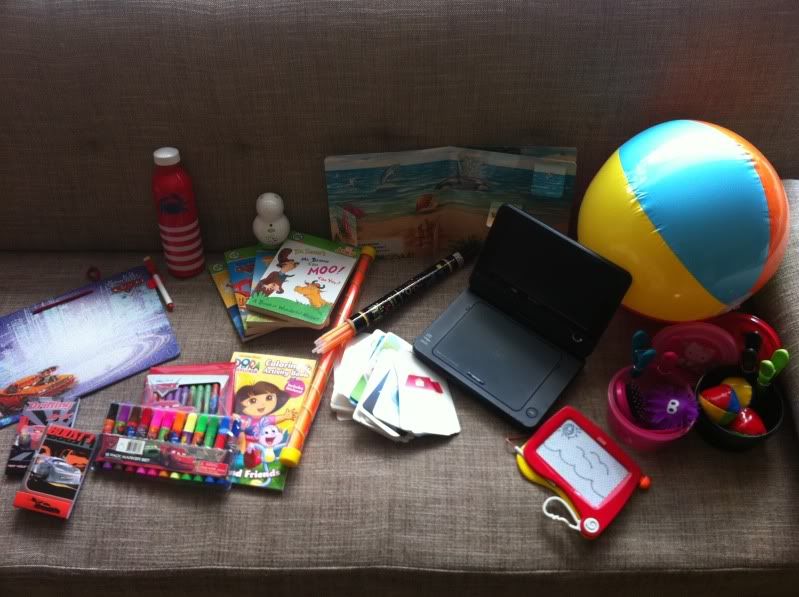 The books I mentioned were the Leap Frog Tag Junior system. That little "snowman", as Tay calls it, reads the books to the kids when they place it over words or pictures. Quite great for the car, when sitting and reading a book isn't the easiest.
We went to the dollar Target bins and let the kids choose a few things and I chose a few. I kept it to a $20 limit and came home and hid the purchases so it was like new again in the car. The glow sticks and that long orange tube (not so loud) noise maker were big hits. Tayden also loved staring at each flash card, studying the images.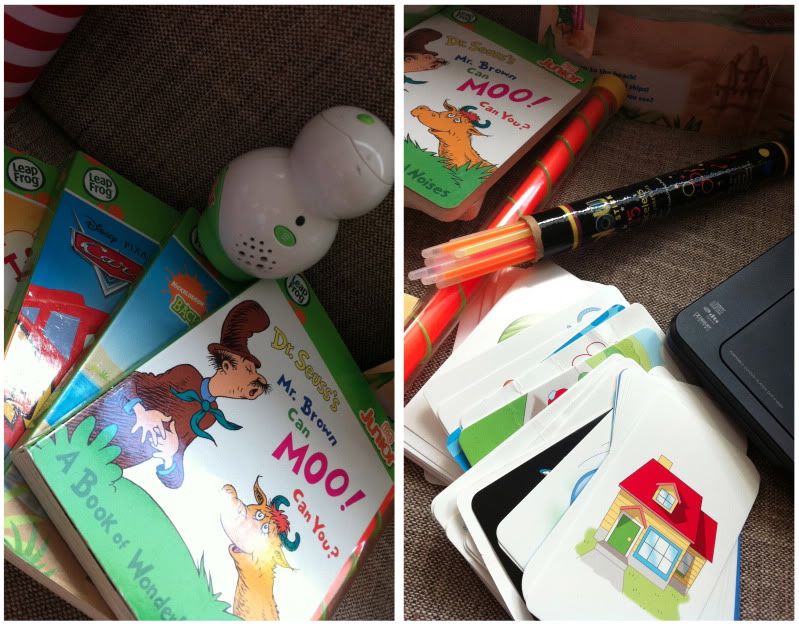 I got each kid a bowl to fill with little things to spark their imagination. A pack of clips, bean filled balls, a squishy toy and brush with mirror filled them. Sedae rather enjoyed the brush/mirror combo...to chew on.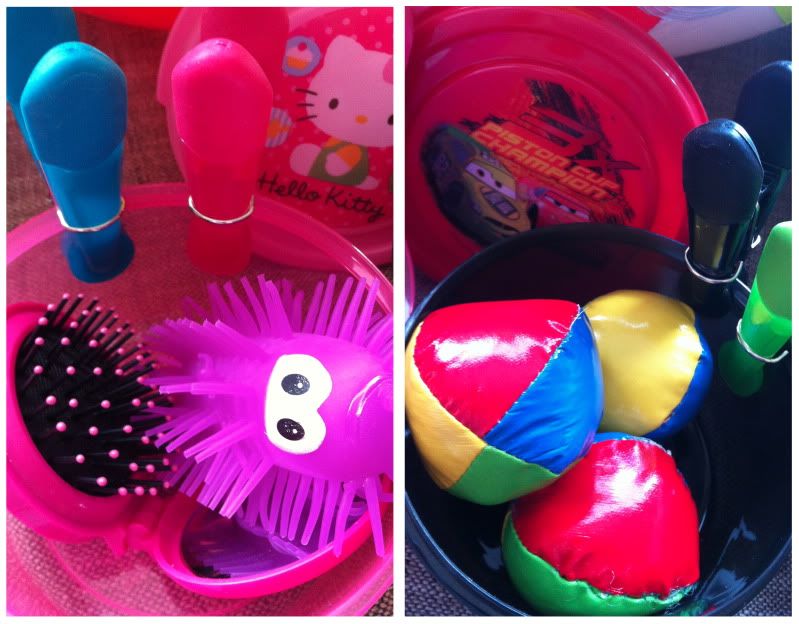 I grabbed this adorable water bottle for Sedae as she's obsessed with our water bottles. I filled it with just enough water to make a fun sloshing sound. The book was also a dollar find, with fun hidden pictures on each page.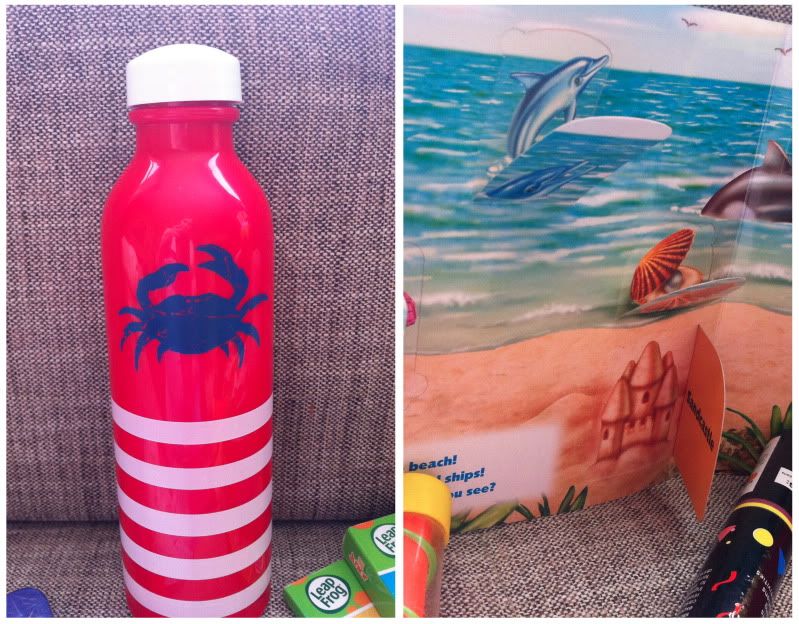 Tayden was armed with a ton of drawing activities. And the dry erase board was the favorite because the pen had an eraser.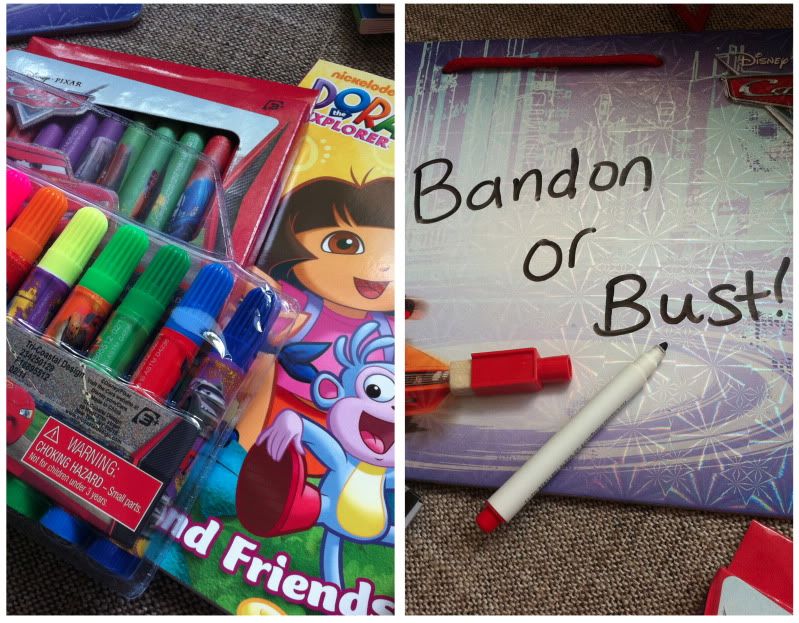 The links below was my solution to the dreaded "Are we at the beach yet?" every five minutes question. I hooked 6 links together (5 hour drive plus one for fudge room) and explained that we would tell him when an hour had passed and he got to take one link off. I'm telling you it worked like a
charm
, there and back!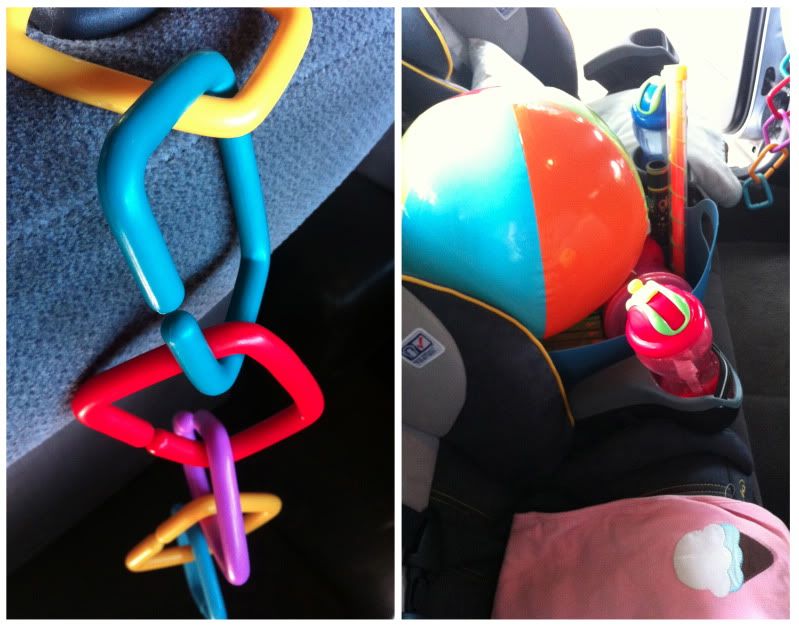 As soon as we got home I cleaned up the bucket, re-organized, and hid it in my closet for our next trip in a couple weeks. I may throw a few extra toys and cars in there this next time since it'll be a longer trip, but I'm so happy with how far $20 took us! What secret weapons do you have? I love hearing how parents survive such trips.