If you know us, and follow along here, you know how excited I get about
sharing our travels
. I've been trying to put a finger on why that is. Who really cares right?
Then it dawned on me. 99% of the time, we travel with our kids.
And I get comments all the time about "how do you do that?" "I'd never be able to take my kids to the places I want to go." "ya'll are brave." "we just don't have the money."
But we're really not crazy, or that brave, or rich.
We just love to teach our kids about
life
and
living
and what makes
us
tick. And we prioritize travel into our budget. (Really, other than travel cost, we don't spend more money than our normal weekly budget, and that's pretty tight anyway.
It is possible
!)
With the kids, we set up expectations before hand on what we're going to do, what to expect when there, you know,
talk
to them.
Is it always perfect? Absolutely no.
Are there times we look at each other and wish for a nanny? Hell yes.
But you can't just pause life because you have kids.
They are a part of you, and that's what, we feel, makes you a family. Bonding, sharing, experiencing. I guarantee, at the end of the day, when you snuggle all together and talk about the adventures of the day, it really makes it all worth it.
So how do we make all that work? One trick is to do your research. And that's why I share these places with you. Because I rely on other bloggers to share the same; to introduce me to new and exciting places. And to show those places where it
is
okay to take your kids for a nice dinner you can enjoy too. (just don't forget your
busy bag
.)
It had been a few months since the
last visit
to Portland so the list of places to check out had grown again.
We made a great dent in that list, with reason to go back again soon.
First stop was
ReRun
, a resale consignment shop. I forgot to get a picture of the front because I was so distracted by all the fun sitting outside waiting to be gone through.
They had tables set up inside, color coordinated, full of household treasures. I was instantly drawn to the orange table as I'm on the hunt for fun vintage finds for the
trailer
(which is getting prepped for paint btw!). They also had tons of fun vintage kids toys that the littles occupied themselves with while we looked around at the clothes and shoes. Ended up with a cute skirt for me, a rockin pair of pink boots for Dae (find in pictures
here
) and a couple wood spools I've been looking for.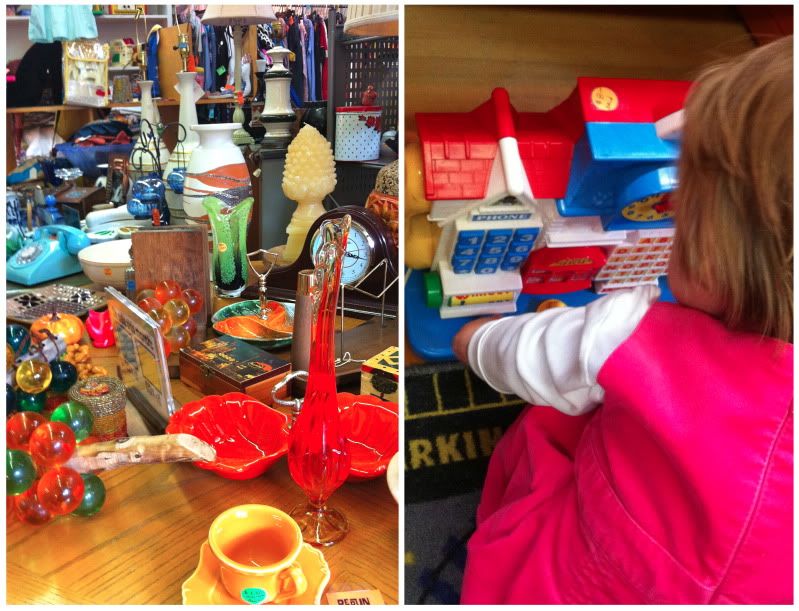 From there we drove to Alberta Street, the counterculture's mecca for restaurants and shops. We had so much fun walking around and looking in all the shops and eateries.
We stopped at
Grasshopper
, a toy store filled with imaginative toys, played around for a while before the kids decided on one treasure each. Tayden chose (of course a car) a VW bug, "like
Herbie
" to be exact :). And got Sedae matryoshka dolls. I grew up playing with them and am excited for her to have some too.
We then walked the few blocks to
Cruzroom
for lunch.
We were hungry and thirsty from the drive over and all that shopping around. I ordered the Downward Spiral (vodka, sage & marionberries) and he, the Sir Isaac Newton, a fig-laced scotch drink with Aquavit and bitters. I don't like scotch, but this was good.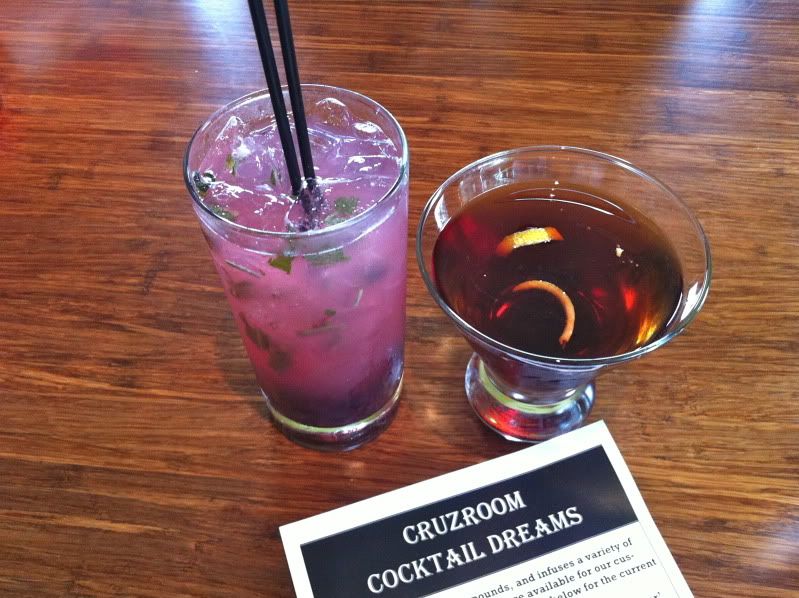 For brunch (on Sunday's they serve brunch until 2:30) I got the PBT & BBT tacos, with tofu. Rich got the Bacon Chorizo Burrito. And the kids had cinnamon-vanilla pancakes, they were yum!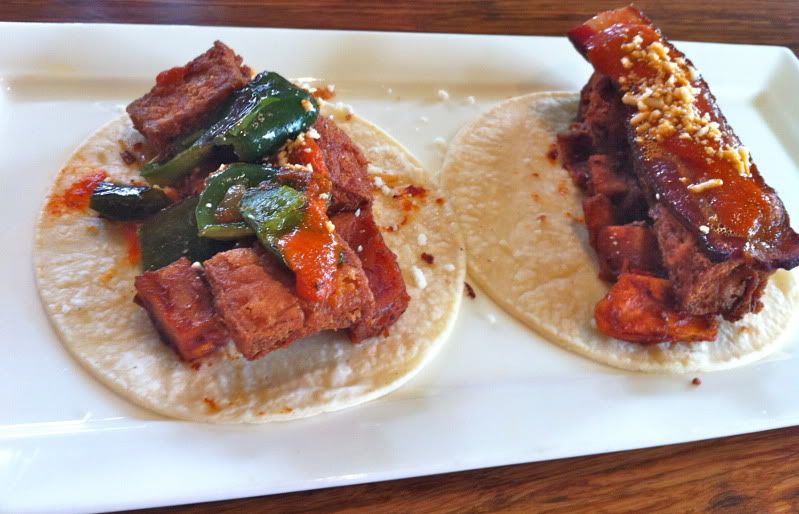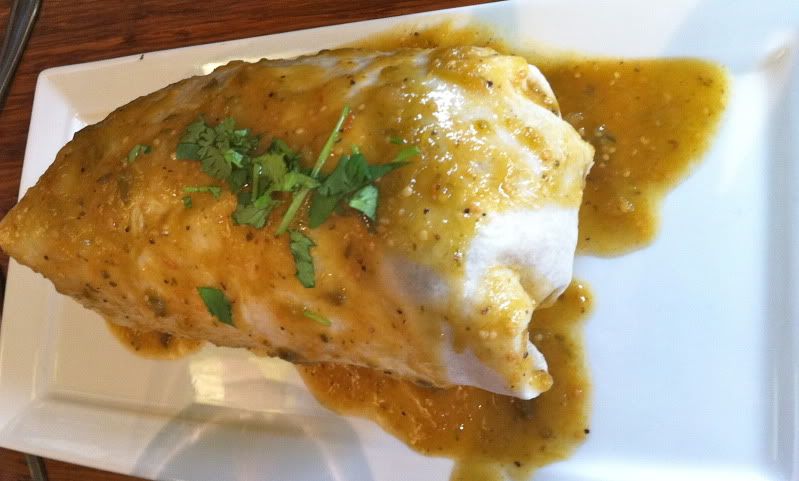 Oh man, everything was so good. It was our favorite meal of the trip, and highly recommend, with or without kids (they have a sweet outdoor lounge for nighttime).
Headed back the way we came, we stopped at
Salt & Straw
.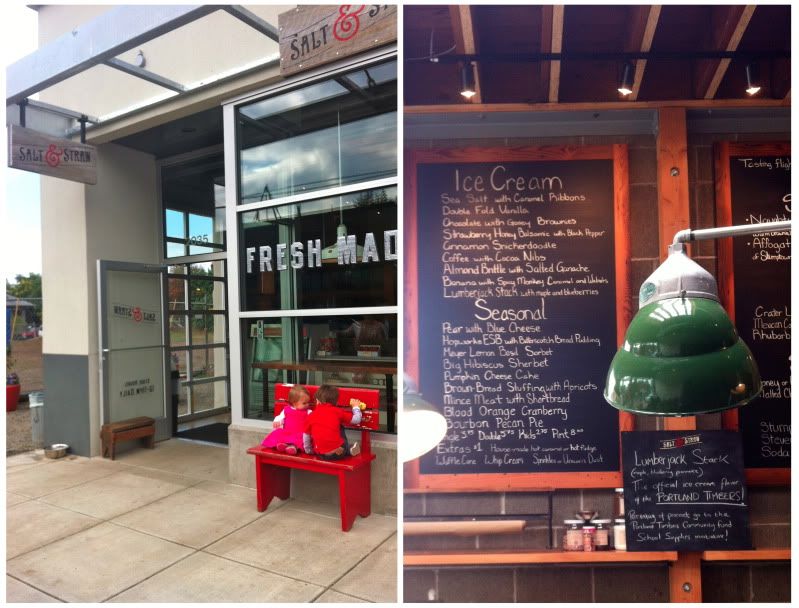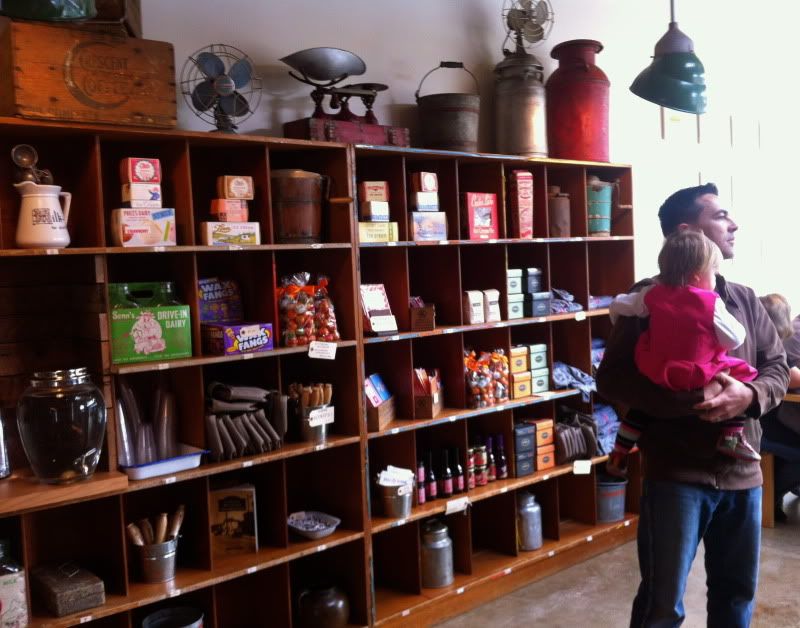 The awesome little food cart, known for their wild ice cream parings, now has a store! And it is so cute, with walls and every detail filled with vintage decor.
I tried their Sea Salt with Caramel Ribbons and Pumpkin Cheese Cake. Rich got the Honey Balsamic Strawberry with Cracked Pepper and the Chocolate with Gooey Brownies. The kids had the Double Fold Vanilla. The sea salt & caramel and the strawberry balsamic were the favorites, but all were awesome.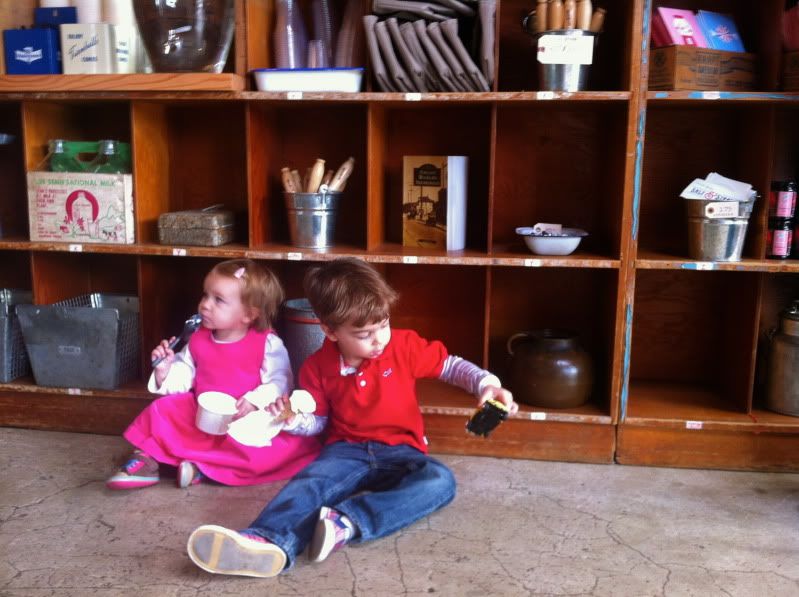 The kids plopped right down on the floor and started in on their ice cream. The store manager came over to click pictures to go on their wall of fame :). They were so uninhibited by rules and etiquette, and only had ice cream on their minds! It was awesome.
Next we drove to
The Meadow
, my personal favorite of the trip. It is a salt and chocolate shop. Yes, you heard me right,
salt
and
chocolate
. They have over 140 different types of salt, lined up so pretty, all along a wall. And boxes of vintage toys for the kids to play with.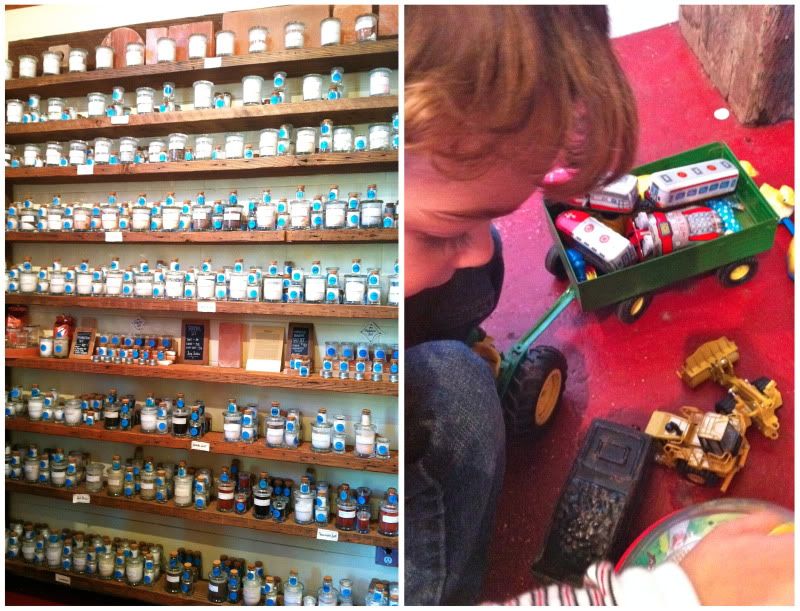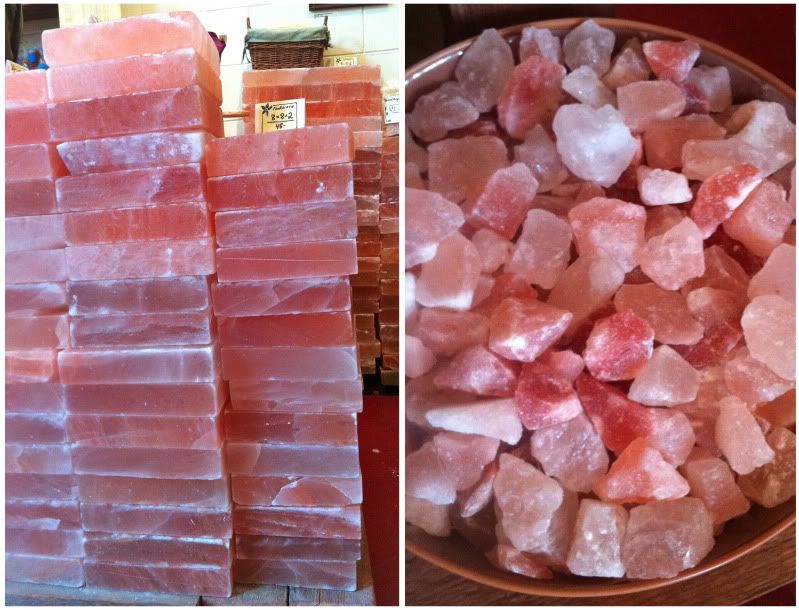 Opposite, is the wall of chocolate.
Oh, and they also have flowers, bitters and wine. It is the coolest store.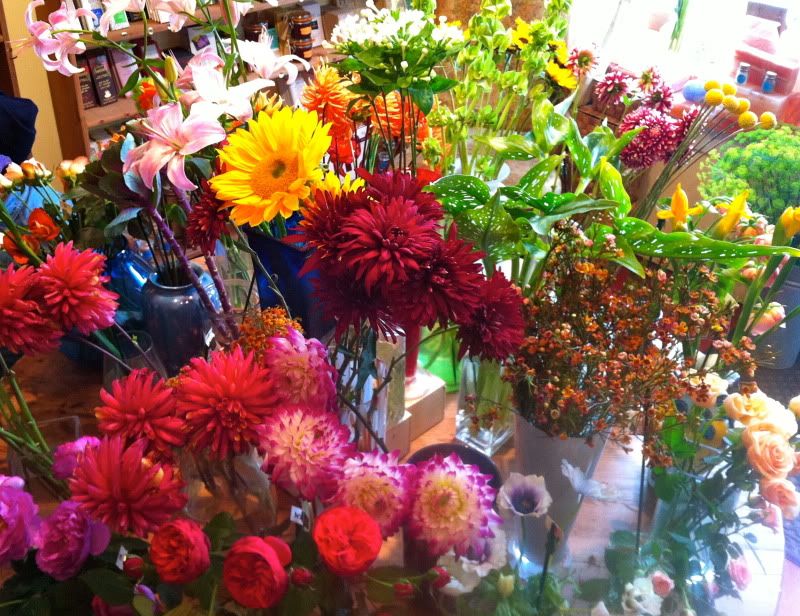 We came away with a nice assortment of salts, for bbq'ing, finishing, etc., as well as an aromatic bitter (Rich, the mixologist, is getting into bitters) and
Xocolatl de David
's Pecan Nougat Bacon Carmel and Parmigiano-Reggiano Chocolate Bar.
We were all pretty exhausted at this point, so we checked in to our
hotel
and relaxed a bit.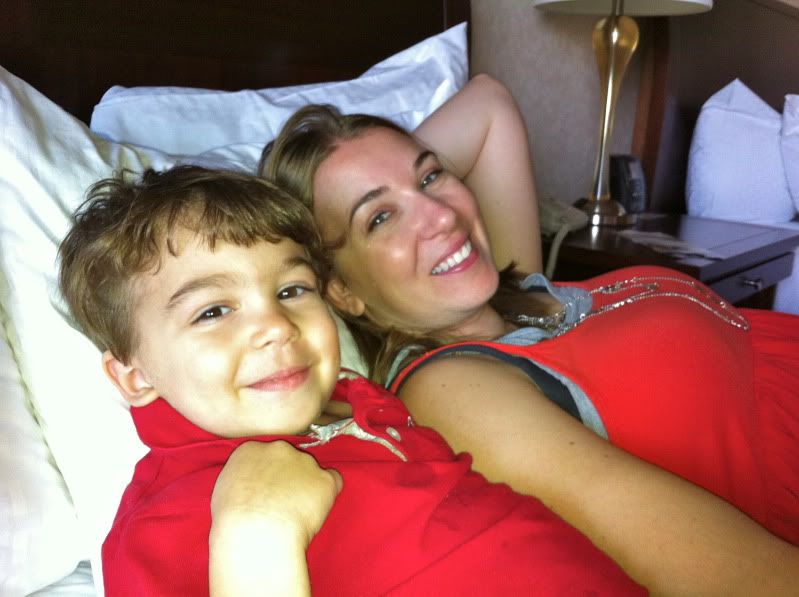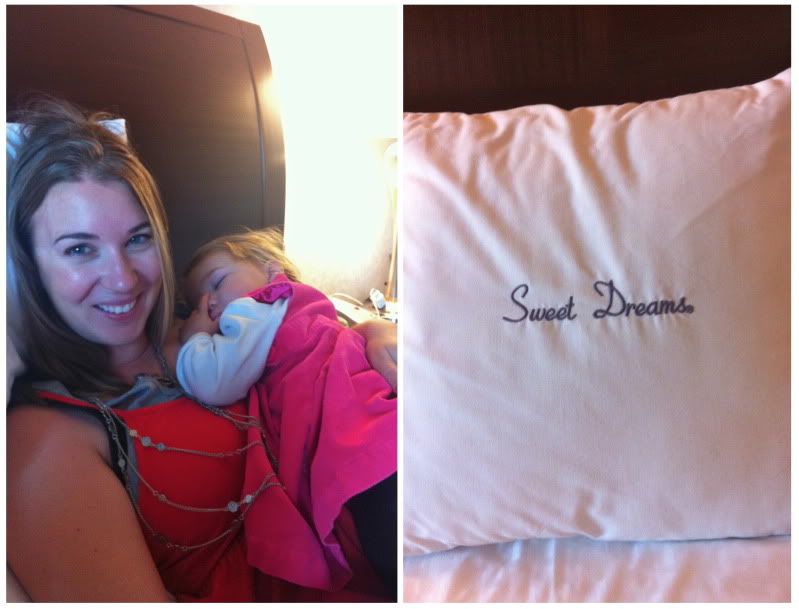 We ended our night at
Clyde Common
(next to the
Ace Hotel
), an open kitchen/common seating style restaurant with an assortment of good food. The french fries with harissa and crème fraîche are amazing. We also ordered a cheese plate, with local honey and jam, and cinnamon pork with dijon and pickles. It was really dark upstairs where we sat so I didn't get any real good photos.
To drink we tried the Heavy Petting (vodka, grapefruit, Aperol and quinine syrup), Part and Parcel (tequila, raspberry gum, lime and Punt e Mes), Tuning Fork (scotch, vermouth, orange and honey syrup) and their daily punch which was a gin and apricot brandy mix. Drinks were delicious and different.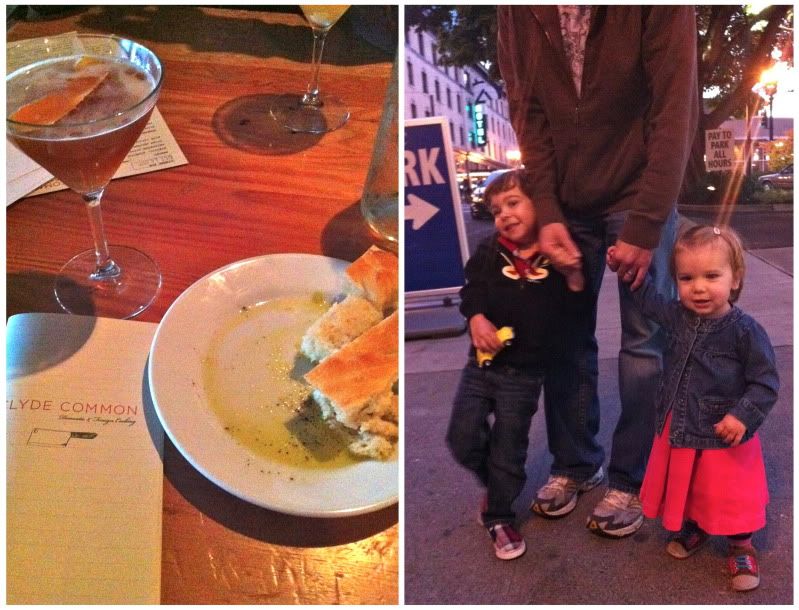 When I was telling Rich, prior to leaving, all I was planning for us to do, he laughed and said "We'll never be able to go to all those places, you know that right?"
Yes, we did pass out early that night. But yes, we did make it through all those places, and were ready to do it all again the
next day
.