I was gone this past weekend to Portland, Oregon again. And as to not disappoint, I ate my way up and down that city, and took notes, just for you.
I had the best brunch of my life at
Tasty N Sons
and the best soup of my life at
Grüner
, and in the same day!
In wanting to know how to try and re-create these divine dishes, I hunted down some great recipes that are close to those in the restaurants I tried. I picked out seven of my favorites, one for you to try each night this week. The beauty of it all is, these recipes are basic and will be most powerful if you use the freshest ingredients possible.
What I love most about NorthWest dining in general, is their obsession with fresh, local and seasonal fare. This translates into the most flavorful products available to you for re-creating on your own.
Enjoy! And let me know what your favorite ends up being.

{1: zeus cafe: pulled pork sandwich with cabbage slaw & bbq sauce on a brioche bun, 2: tasty n sons: roasted apple with bacon lardons & cheddar, 3: h50 bistro: tomato basil soup: san marzano tomato, organic basil, cream, 4: blueplate: northwest sliders: little cheeseburgers with tillamook cheddar & special basil spread, 5: otto: waffled french toast with sauteed apples, pears, cranberries & maple syrup,
6: olympic provisions: chefs choice: assorted charcuterie and cheeses, 7: grüner: cream of turnip soup with dill goat cheese butter}
Home Cook's Way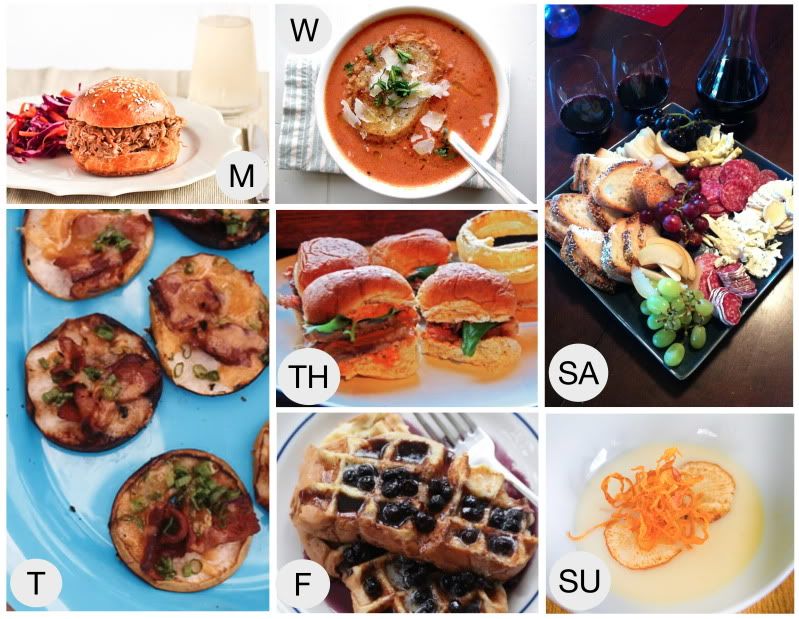 {m: ginger beer pulled pork on brioche buns, t: grilled apples with bacon, cheddar and scallions, w: tomato basil soup,
th: steak sliders with roasted red pepper-basil mayo, f: waffled french toast, sa:

pick up assorted hard salami, terrine, paté, cheeses and accompaniments like brown mustard, grapes, fig jam

, su: creamy turnip soup}